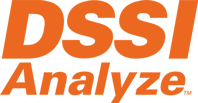 Spend Management Software for Healthcare Organizations
Complete data visualization, benchmarking and impact analysis.
Contact us for a free demo and initial savings analysis.
Tracking purchased services across multiple healthcare locations can be daunting. DSSI Analyze™ is a spend-management software solution designed for healthcare organizations and professionals that follows every dollar of your purchasing so you can optimize the value of your supplier relationships.
DSSI Analyze™ was developed in conjunction with JBH Advisory Group, and is founded on their years of healthcare operations expertise and industry benchmarking.
Comprehensive Visualization
Track purchasing and labor expenses against a variety of precision metrics.
Identify patterns in your procurement life cycle with a top-down view of your data.
Discover trends to unlock operational efficiencies that maximize your sourcing process.
Drill Down on Your Spend
Optimize your contracts with granular views of food, environmental services and facilities spend.
Hone in on your problem areas with specific comparisons to best-in-class industry averages.
Develop an actionable savings plan based on real-time spend data across all your locations.
Rediscover Your Data with
DSSI Analyze™
Easy Integration
We simply link to your AP feed for immediate access to actionable data.
Standalone Solution
Available to any healthcare organization as a monthly subscription – even those outside the base DSSI platform.
Eliminate Surprises
Track against vendor guarantees to ensure you stay on top of your spend.
Unlock Operational Efficiencies Today
Sit down for a one-on-one tour with our product experts. We'll show you exactly how intuitive the DSSI Analyze™ platform is and provide you with an initial savings estimate for your healthcare organization.